ABOUT THE BOOK
The book titled "Mihir's Handbook of Chemical Process Engineering" will aid the chemical engineer to carry out chemical process engineering in a very practical way. The process engineer can use the excel based calculation templates effectively to do correct and proper process design. Chemical engineering is a very vast and complex field. This book aims to simplify the process engineering design.
Design of a chemical plant involves one being adept in technical aspects of process engineering. The book aims at making the chemical engineer proficient in the art of process design.
View links to Overall index to each chapter and sub-index for each chapter.
Included are chemical engineering basics on simulation, stoichiometry, fluid property calculation, dimensionless numbers, thermodynamics and on chemical engineering equipment like pump, compressor, steam turbine, gas turbine, flare, motor, fired heater, incinerator, heat exchanger, distillation column, fractionation column, absorber, stripper, packed column, solar evaporation pond, separator. Utility design of nitrogen, compressed air, water, effluent treatment, steam, condensate, desalination, fuel selection is covered.
Many chemical engineering calculations have been included. Special process items like flame arrestor, demister, feed device, pressure reducing and desuperheating station (PRDS), vortex breaker, electric heater, manual valve have been covered.
Process engineering design criteria, process control, material of construction, specialized process studies, safety studies, precommisioning and commissioning have been covered.
---

ABOUT THE AUTHOR
The author, Mihir M. Patel is a Chemical Engineer with a Master's degree from USA in 1987. He is a practicing chemical engineer with 33+ years experience in process and process safety engineering. Additionally, he is a Project Management Professional (PMP®) from PMI, USA, which gives him a unique overall project perspective in addition to process perspective.
He has worked all around the globe, in small as well as mega greenfield and brownfield projects. The projects have been oil & gas, petrochemicals, polymerization as well as chemical plants. The processes have been continuous as well as batch.
He has worked in premium companies in design as well as in operations field.
Handbook Details
| | | |
| --- | --- | --- |
| 1 | No. of Chapters | 44 |
| 2 | No. of Pages | 4000 |
| 3 | Figures | 2265 |
| 4 | Tables | 440 |
| 5 | Calculation Templates | 40 |
| 6 | Datasheets | 93 |
| 7 | TBE Blank Formats | 11 |
| 8 | Checklists | 25 |
I have now become a frequent user of the handbook. I am always trying to find ways to improve & I think I might have come across one. The handbook is becoming my companion.

I am very often referring to it. It is really good. I keep being amazed at how you manage to put such a comprehensive piece together.
I am a process engineer with approximately 12 years' experience in oil and gas engineering design and construction both onshore and offshore facilities. In my opinion, this chemical process handbook is complete enough, covered almost all technical aspect and has practical side that really helpful for me in designing equipment or generating a comprehensive process study. Its price is also reasonable and I recommend for all process engineers who want to enrich their knowledge to buy this handbook as their reference.
The Handbook of Chemical Process Engineering is written by very experienced Process & Safety professional Mr. Mihir Patel. The book covers theoretical and practical aspects of all the relevant topics of process engineering. It gives very good insight of design of various process equipment likes vessels, columns, pumps, compressors, heat exchangers / fired heater etc…

Book consists of Various checklists. It will help process engineer for cross checking the design thoroughly. This book also consists of various process equipment sizing templates. It will help process engineer for estimating typical sizes of various process equipment. It also provides very good guidance on simulation and necessary thermodynamic models. It is a very good handy book for fresh graduates as well as experienced process engineers.
This book was worth spending my money on as it has excellent level of detail and information related to Chemical Process Engineering. I really appreciate for spending your time and effort in compiling and publishing this handbook.

Information related to a particular topic is easily accessible. That helps our root-cause work tremendously.

I am 100% confident that this handbook will help engineers involved in the design, selection, maintenance and operation of any Chemical Process Plant. With far reaching, comprehensive coverage across a range of topics from design specifications to maintenance troubleshooting, this handbook will provide all the essentials to learn and fill knowledge gaps.
This chemical engineering hand book is a very useful reference to all chemical engineers. It has very useful information on process engineering and contains different process designs based on experience of the author.

It has many process calculations, process Data sheets, calculation templates and P&ID's as a reference. I strongly recommend all the process engineers in consultancies or production companies to purchase this valuable unique hand book.
Ebook titled "The Handbook of Chemical Process Engineering" and compiled by Mihir Patel is an excellent collection of technical articles & spreadsheets which would be useful to all Chemical Engineers young & old. The compilation is crisp, precise and tailor made for all Process Engineers who could diligently utilize them in their daily course of work.

I would like to take this opportunity to complement Mihir Patel for this masterpiece collection.
I have received the pen drive version as per scheduled date. This enormous compilation of data is best tool for any process engineer. I believe I can use the book as a ready reference any where, any time.
Excerpts from various chapters (Sample Content)
Volume I | Chapter 3 | Pages 10 to 12 | Pumps 3.5 OVERALL PUMP OPTIONS: The following chart gives an introduction of pump selection options as a function of flow and required head.           Fig 3.1:... read more
Summary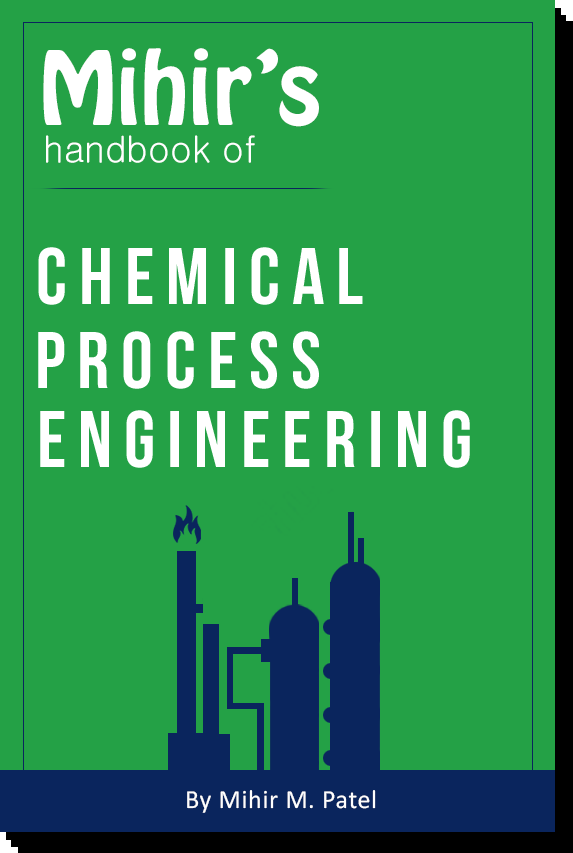 Author Rating
Brand Name
MIHIR's Handbook of Chemical Process Engineering
Product Name
Chemical Process Engineering book
Price
Product Availability